Amarok. Not just tough, smart.
The Amarok transforms expectations of what a bakkie should be. In addition to the countless benchmark features, you've come to expect from the Amarok, its 3.0 litre V6 TDI engine delivers a brutish 165kW and 550Nm of torque. The Amarok V6 has exactly what it takes to get the job done, and then some...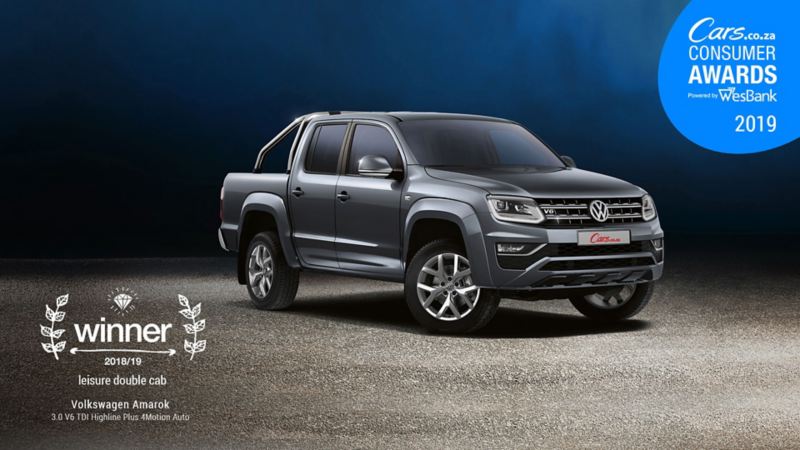 Safety

Discover the latest Volkswagen intuitive safety and technology features designed with you in mind.
Power
Power your way through life and tackle any terrain in this formidable Volkswagen model.
More reliable.
Automatic Post-Collision Braking System and electronic trailer stabilisation system as standard.
Safety on almost any terrain: the Amarok is the only pickup in its class to come with an Automatic Post-Collision Braking System, 17-inch disc brakes at the front and 16-inch disc brakes at the rear as standard. What's more, the trailer stabilisation system provides the best possible protection against snaking trailers.

Automatic Post-Collision Braking System.
Triggers braking after a collision, with the aim of preventing secondary collisions. After a short delay, the vehicle begins phased braking down to 10km/h, during which the driver can take over at anytime.

Electronic Stabilisation Programme
Prevents under- or over steering by targeted braking of individual wheels.

Trailer stabilisation.
If your trailer starts to snake back and forth, the system carefully brakes the towing vehicle and reduces the engine's torque. This steadies the trailer and maintains driving safety.

Anti-theft warning system
Triggers acoustic and visual warnings in the event of unauthorised entry. In addition to interior monitoring, the system includes an electronic immobiliser, a deactivatable SAFELOCK and tow-away protection.
Leather-covered multifunction steering wheel with paddles
*For excellent grip and a premium feel. Ergonomic paddles allow you to change gears for a sportier driving style. 

Multifunction steering. 
The radio or navigation system and your mobile phone can be controlled using the buttons within easy reach. 

**Winter package (not illustrated). 
Making the start of the day a little bit easier in the cold months. This package includes heated windscreen washer nozzles, a washer fluid display and seat heating for the driver and front passenger seat. 

*Available only on the Extreme model. 
**Optional on the Highline model. 
If looks could thrill
Drive ahead of the rest with the Amarok Dark Label. Amarok is now even bolder with stand-out exterior finishes like the black side sills, smoked tailgates and rear tinted windows. The most commanding aesthetic features are the dominant MAXE matte black style bar and absolutely power Rawson twisted alloy wheels. 

The Amarok Dark Label's interior is fitted with a range of stylish luxuries. The Deep Inox interior, embroidered floor mats and Vienna leather seat covers are style-driven. And with the 132kW BiTDI Automatic and 4MOTION®, the Amarok Dark Label is all bark and all bite.